Upcoming Shows
Date
Artist
City
Venue
01/30/15
Joni Mitchell Tribute
Portland, Oregon
Alberta Rose Theatre

Time:

8:00pm.

Admission:

$10-20.

Age restrictions:

All Ages.

Address:

3000 NE Alberta St.

The Alberta Rose's fourth annual tribute to Joni features performances of songs from her classic albums "Hejira," "Court and Spark" and "Blue," and more of her hits and misses. Some of Portland's finest female singer/songwriters including Anne Weiss, Kris Deelane, Bre Gregg, and Paula Sinclair will perform.

Buy Tickets
02/11/15
Anne Weiss
Salem, Oregon
Oregon State Capitol

Time:

11:00am.

Age restrictions:

All Ages.

Address:

900 Court St NE.

Mark your calendar and join HCAO on the Capitol steps in Salem, February 11th from 11 a.m. to 1 p.m. We expect 2,500 people carrying signs and banners while they listen to a program of great music and inspiring speakers. Register today for the HCAO Feb 11th Rally at www.HcaoRally.net

03/21/15
Women with the Blues – A Musical Celebration of National Women's History Month
Portland, Oregon
Alberta Rose Theatre

Time:

8:00pm.

Admission:

$17 – 25.

Age restrictions:

All Ages.

Address:

3000 NE Alberta St.

Third annual Women with the Blues featuring Anne Weiss, Mary flower, LaRhonda Steele, and other special guests! $17 GA presale | $21 GA at door $25 VIP (preferred seating)

Buy Tickets
04/22/15
Anne Weiss
Portland, Oregon
Alberta Street Pub

Time:

7:00pm.

Age restrictions:

All Ages.

Address:

1036 NE Alberta St.

Venue phone:

(503) 284-7665.

2015 "Local Roots Earth Day Celebration" In addition to music, we will also have themed readings and poetry read between sets. The Lineup: True North The Oh My My's Avery Hill Ara Lee Kelly Brightwell and Michael Henchman Anne Weiss Butterfly Breakdown Carlos Severe Marcelin The Over Alders James Faretheewell
Go to Shows
---
Joni Mitchell Tribute Concert – January 30th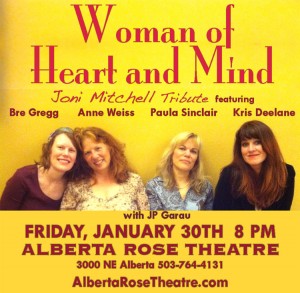 The Alberta Rose's fourth annual tribute to Joni features performances of songs from her classic albums "Hejira," "Court and Spark" and "Blue," and more of her hits and misses. Some of Portland's finest female singer/songwriters including Anne Weiss, Kris Deelane, Bre Gregg, and Paula Sinclair will perform.
---
The Everyone Welcome Community Choir/Singing Class
6:45-8:15PM – Jan 5- Feb 23, 2015 (No class Jan 19) Jan 5 free to choir curious/newcomers! All welcome to come see what we are all about!
7 Classes – $90 adults, $70 under 21
Choir curious? Drop in: $15
More info and purchase classes here
Download the flyer and spread the word!
---
New Video
World famous duo sings Anne Weiss song "Day of Celebration"
Anne's Music
Combining contemporary folk, blues, acoustic funk, gospel music, and smatterings of classical phrasing and Latin rhythms, Anne is known for her enormous bluesy voice, great guitar chops, and striking stage presence.
Listen & Buy CDs | Gigs | About Anne
Classes & Lessons
As a teacher, Anne offers everything from private lessons in guitar and voice to community college courses, blues workshops, and community choirs.
Albums & Poetry