Upcoming Show:
Women with the Blues: A Celebration of Women's History Month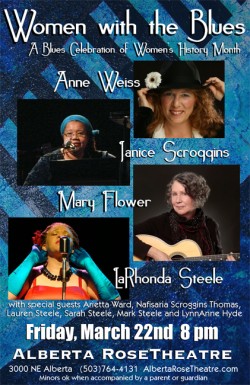 Mar 22, 2013 at 8:00 PM
Minors OK when accompanied by a parent or guardian
Doors open at 7:00
$13 General Admission | $16 At the Door | $20 VIP (preferred seating)
A musical celebration of Women's History Month featuring Anne Weiss, Mary Flower, Janice Scroggins and LaRhonda Steele.
Buy tickets here
Poor Girl Blues
Anne's first Blues Uke Performance, Alberta Rose Theater, Portland Oregon, Spring 2012
Recent Videos!
Day of Celebration – Anne Weiss and the Just Add Soul Gospel Choir at the Alberta Rose Theatre
March 10, 2012.
Have Some Peace – Anne Weiss
More videos available on the Press Kit page.
Anne's Music
Combining contemporary folk, blues, acoustic funk, gospel music, and smatterings of classical phrasing and Latin rhythms, Anne is known for her enormous bluesy voice, great guitar chops, and striking stage presence.
Listen & Buy CDs | Gigs | About Anne
Classes & Lessons
As a teacher, Anne offers everything from private lessons in guitar and voice to community college courses, blues workshops, and community choirs.
Albums & Poetry